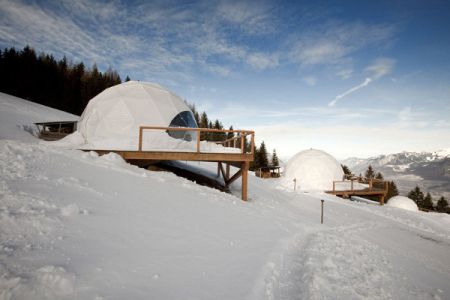 The ideas are as endless as your imagination when it comes to planning a romantic post-wedding escape. For someone who is more of a mountain person than a beach person, there could be nothing better than to escape to the mountains for a romantic, unforgettable honeymoon. If you are getting married in winter season, you might want to consider the unique idea of a warm winter honeymoon at a ski resort instead of the usual beach vacation ideas. Apart from spending some good time together amidst the mountains, the adventurous couples can also go for outdoor activities like hiking, skiing and mountain biking. There are many exotic ski resorts around the world, which offer a perfect setting for the couples to go on with the celebration of their marriage. Here we have some of the most beautiful and famous ski resorts that promise a cozy winter honeymoon.
WhitePod Alpine Ski Resort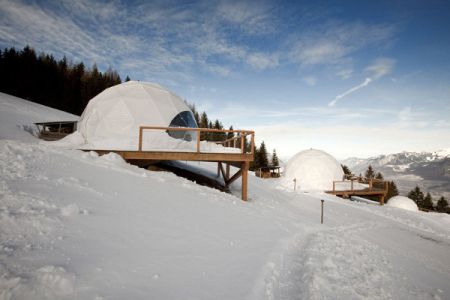 Located 1,700 meters above sea level in the Les Cerniers village of Swiss valley, the WhitePod Alpine Ski Resort is an ideal place for a couple who is looking for a cozy winter honeymoon. The resort mingles the traditional ideas with contemporary ways of living. The resort features 15 comfortable igloos, which have all sorts of necessities inside like king size beds, fireplace with a huge window for breathtaking views of the gorgeous valley. The ski tracks are situated at a walking distance. The couple would enjoy the spectacular landscape of Switzerland while they go out for skiing.
Big Sky Resort, Montana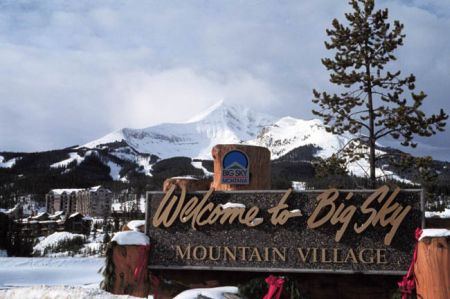 For an adventurous couple, who loves to ski and swoosh around the snowcapped mountains, Big Sky Resort is a perfect destination. This beautiful resort is situated on the southwest Montana. This is the biggest skiing site of America with 5,500 of uncrowded acres and 27 lifts to access. You can also take in the picturesque and sensational views of the Gallatin and Madison River valleys. Along with skiing, there are other fun-filled activities offered by the resort to make your winter honeymoon both comfortable and enjoyable.
Cortina, Italy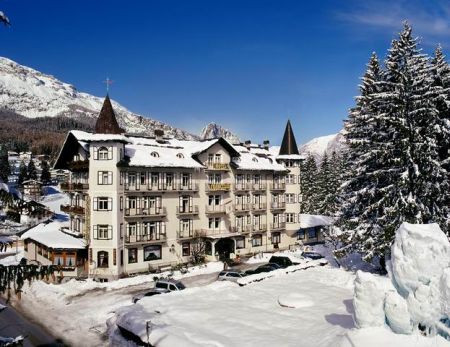 Italy is one of the most romantic and desirable destination for honeymooners and for those who wish to have fun with their spouses on a winter honeymoon, there is nothing better than a ski resort. If a couple wants to hit both birds with a single stone, Cortina d'Ampezzo, Italy is the appropriate location for them. This is one of the oldest and classiest of all ski resorts. It is located three hours from Venice. Cortina is situated amidst the crags and cliffs of the Dolomite Mountains. Along with skiing the couple can also enjoy other activities like skating, curling, and "ice-bouldering" in both summers and winters. The rustic interiors of this hotel are complemented with all modern amenities including a fireplace to make the couple feel cozy and comfortable after ski.Mont Tremblant, Quebec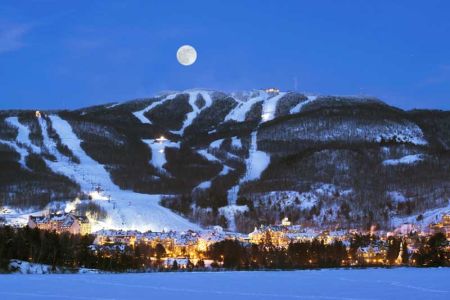 Mont Tremblant is another ski resort, situated in Quebec, Canada. The romance and charm of the place is heightened by the cozy and comfy lodges for the couple who have come for their honeymoon during winters. The resort combines other snow activities like ice skating and snowboarding, and is therefore ranked as the East's No. 1 resort by the Ski Magazine readers. You can also go for a sleigh ride that is pulled by horses and enjoy the picturesque Quebec's tundra that almost resembles an Alpine safari.Stowe, Vermont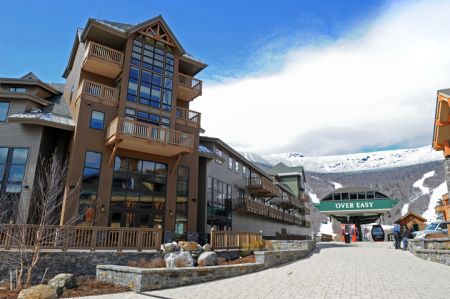 Located on the Lamoille County, Vermont, United States, the town of Stowe is one of the most visited tourist's destinations. Mount Mansfield is the highest mountain of Vermont with a ski area suitable for expert skiers whereas, beginners and intermediates log on to low altitudes of Spruce Peak. All the resorts in this pristine location are equipped with modern facilities like spas and fitness centers to make your stay as comfortable as possible.
Chamonix-Mont-Blanc, France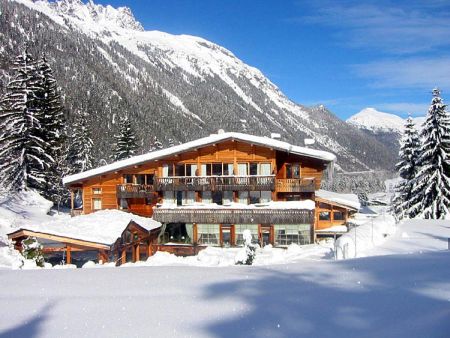 Sitting in the peaceful atmosphere, 2km away from the world famous Chamonix ski resort and at the foot of "Bossons" glacier, the Chamonix Mont-Blanc hotel offers everything required for a cozy honeymoon during winters from comfy accommodation to breathtaking views of snow covered Mont Blanc. The accommodations are in form of herdsmen's huts in alps with TV room, garden area, pool table etc. There are various activities for the couple to enjoy like skiing and snowboarding in the winter or walking and hiking in the summer.Kitzbuhel, Austria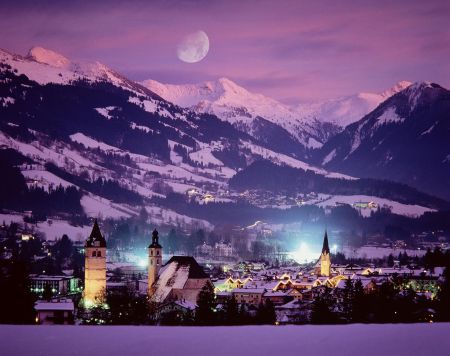 If you have decided on a ski resort as your honeymoon destination, but are still thinking of a perfect location, you could consider the beautiful Kitzbühel in Austria. With quality hotels, bars and restaurants, this place offers the perfect environment for the newlyweds. Kitzbühel ski area has been listed among the most popular ski resorts around the globe. There is snow guarantee all the time, which makes it a great destination for snowboarders. The area's picturesque summits and the perfect powder snow slopes are sure to impress the couples.Whistler-Blackcomb Ski Resort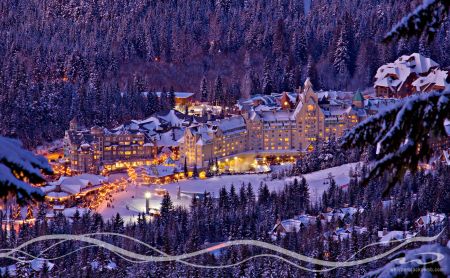 This magical place of Whistler has all the scenic beauty and it provides a great escape from the hustle and bustle of cities. One can enjoy a peaceful ski vacation or a hassle free cozy winter honeymoon. For a comfortable stay you can opt from condos, cabins, rental homes, and chalets. The resort offers cosmopolitan facilities with 8,000 acres of skiable area. You can have a fabulous ski vacation with your partner while enjoy the beautiful scenario of the Alps.Yabuli Ski Resort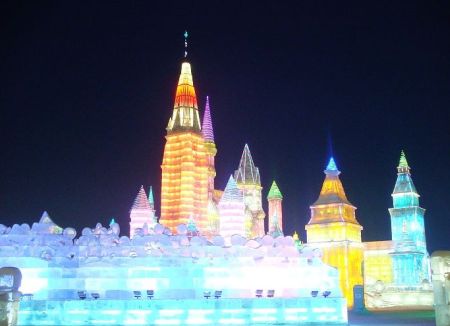 China's original ski town, Yabuli makes for an ideal holiday destination for the families and the honeymooners.Nestled in the northeastern province of Heilongjiang, Yabuli Ski Resort has all the scenic beauty and other amenities to impress its guests. Yabuli Ski Resort is mostly visited by the alpine skiers and also holds professional skiing competitions. If you are more into snow sports and love adventure, you would love to pick up Yabuli Ski Resort as your honeymoon destination.
Saas Fee, Switzerland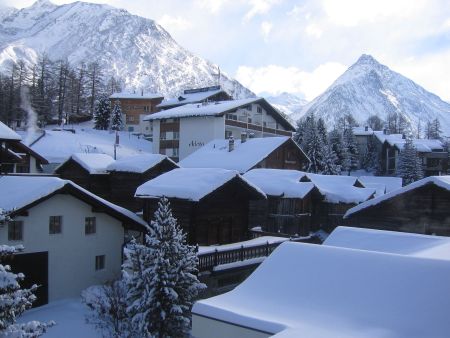 A great vacation spot for honeymooners, Saas Fee in Switzerland enjoys stunning glaciers and is surrounded by 4000m peaks. The scenic beauty of the location is sure to enthrall the lovebirds on their first post-wedding getaway. Moreover, the village is traffic free and boasts lift access to highest slopes, so that the adventure lovers can enjoy skiing throughout the year. Newlyweds are indubitably going to fall in love again and again at this romantic location.