You had planned for your planning months in advance but now it is coinciding with the movement and gathering restrictions imposed by the government. In the US and other countries, gatherings of over 50 people are not allowed. Social distancing is being encouraged for health reasons. The coronavirus pandemic has put a damper on events, including marriages. If you want to go ahead with your wedding, you can but follow the rules. Here's what you can do to save your wedding from coronavirus.
How to save your wedding from coronavirus
1. Postpone it if possible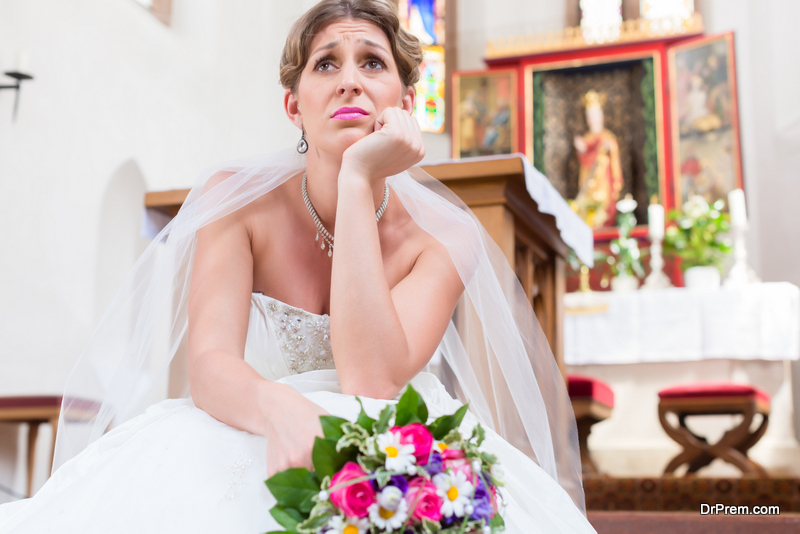 Though it is not a happy choice, you have to consider postponing your wedding for a few months especially if you planned a destination wedding in Europe, especially Italy and France or Spain. These countries are on lockdown, and even the UK is advising against unnecessary travel.
Maybe you can book another date a few months from now, when the virus might be under control. That is, if you want a wedding with a lot of guests at the reception and so on. Find out the date cancellation charges, though, if any, as during this time no one should charge any money for cancellation. Even the photographer and caterer would be understanding.
Many wedding venues insist on taking out liability insurance, which might just cover your cancellation of the venue due to coronavirus, but you have to find out, especially if you had taken out the insurance months ago.
2. Don't be shy to ask questions
Weddings are planned months and sometimes a year in advance, and it might be difficult to postpone or cancel your wedding. It is a special event which you have dreamed about, and if you choose to go ahead with it you can. You may have to downsize the entire affair.
Ask as many questions as you can about the venue's precautionary measures against coronavirus. If it is a public building such as a museum, public library or other widely frequented event space, then you should ask how safe it is.
3. Make it a small, intimate affair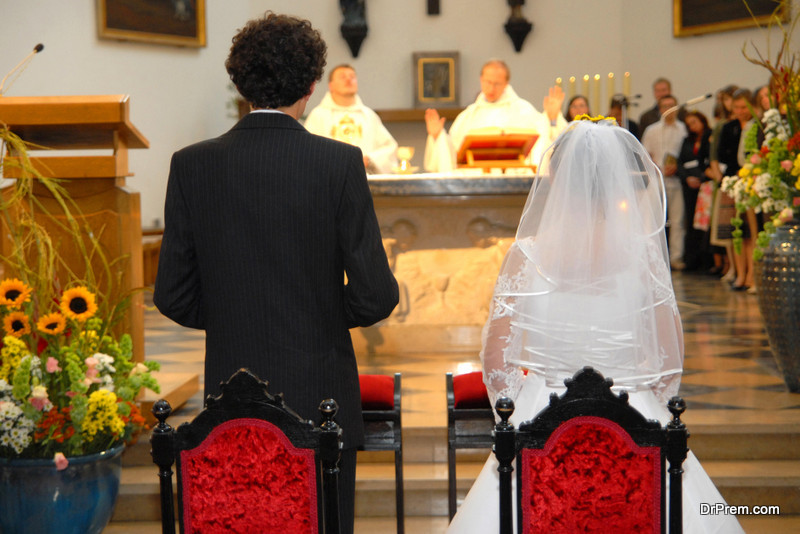 If you still want to go ahead with your plan for a wedding during coronavirus, you can have a small wedding at the register's office or at the church with just the officiating person and your immediate family. Or it could only you and your partner, which is all that matters. Plan the wedding reception at a later date when others can join you.
4. Should you invite people from the areas affected?
If you plan your wedding during coronavirus, then you have to make some decisions for the safety of your guests. It is sad, and you will miss your friends or family, but if they are residing in areas where the outbreak is really bad, then it is best that you do not invite them or as delicately as possible, ask them not to come. This is one of the reasons why you may have to end up postponing a large wedding, especially if your and your partner's family happen to be living there.
5. How would you protect your guests?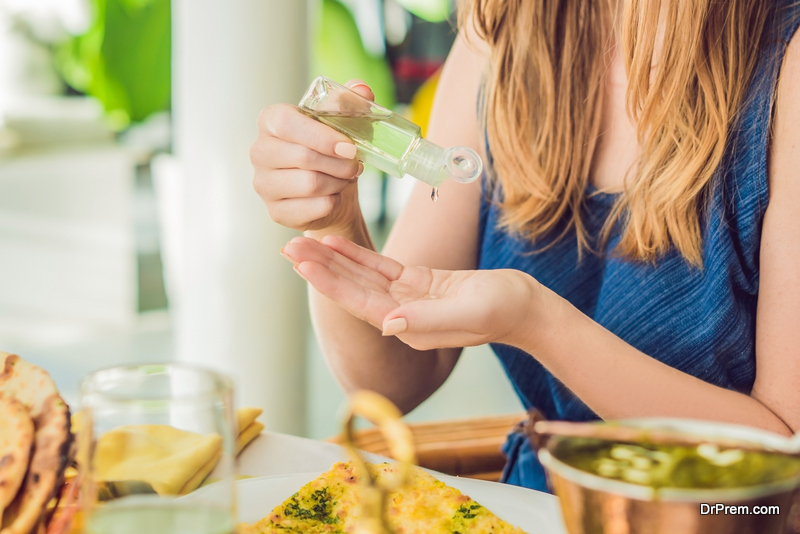 While celebrating marriage during a pandemic, these are a few ways in which you can protect your guest, such as keeping hand sanitizers at various points in the venue. People can clean their hands from time to time as required. There should be plenty of ventilation as well as light to decrease the transmission of the virus. You could attach posters informing people about social distancing, wearing masks (wise to do so at big gatherings as it does protect your nose and mouth), and so on.
Set the seats at least a meter apart as per the WHO directives, which would also reduce the risk of transmission.
Plated meals would be better than buffet style as people do not have to gather around while waiting to fill their plates. Each guest must have their own silverware, and no one should be touching the same common serving spoons, so eliminating any kind of self-service is advisable.
Avoid sharing wine glasses and spoons, and just keeping up the precautions will be enough to be safe.
There has to be a place where guests can wash their hands with soap and water frequently. Do check whether the venue, caterers and other service providers are following the guidelines of the CDC. This would help to keep your guests safe from coronavirus.
6. Send a letter
This is the wisest thing you could do where you appeal to your guests to exercise their own discretion whether they should attend or not, and RSVP you. If anyone thinks that they could have been exposed to the virus even in the slightest degree, then they should decide not to attend.
7. Have a virtual wedding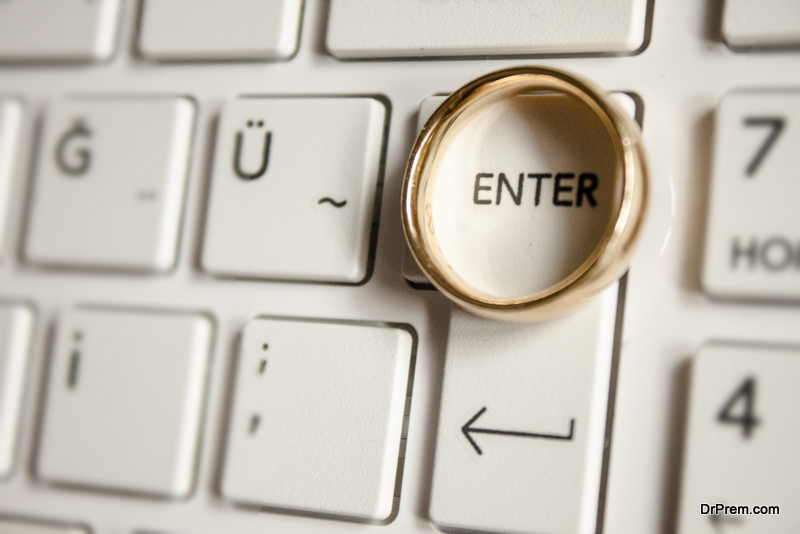 There is no need to cancel and postpone your wedding amidst Covid-19 as this the digital age. You can use social media to plan your wedding and include everyone you want, even those in quarantine with the help of technology. The entire ceremony can be live streamed, virtual guest-books can be created and you can play pre-recorded speeches too. Ask if the venue has video link equipment, so that the invitees can be part of the ceremony.
As we mentioned before, the food should be plated to be on the safer side rather than self-service and communal options. Even beverages should be served rather than having a coffee station which might get contaminated.
Request your guests to keep uploading the photos of the whole day so that those who are unable to attend, can feel included. Why not create a WhatsApp group of your wedding, where images and videos can be uploaded instantly.
8. Will you get your dress in time?
This is a fear many brides are going through as many dresses are made in China. You may be worried that your dress will not arrive on time. It seems that most suppliers and stores had received their gowns early this year and made arrangements for the dresses to arrive on time.
Still, if you have not selected the dress as yet, it is better to go with the local dressmakers as there won't be a chance of delay or infection.
9. What about the honeymoon?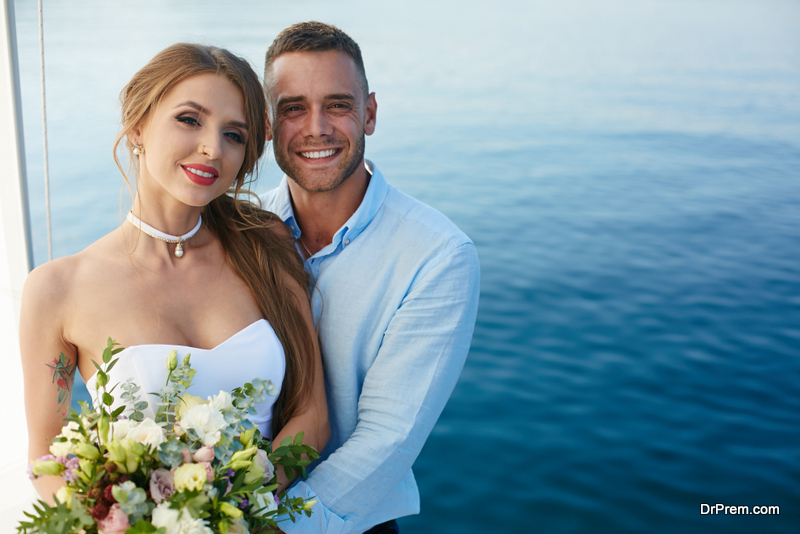 As almost all countries and destinations which couples favor for honeymoon are on lockdown, so going on a honeymoon right now may be difficult. Even if you are able to reach your destination, you may find restaurants, pubs and the sights closed. The atmosphere everywhere in the world is not a celebratory one right now. Many of the travel insurance policies would cover trips which had to be cancelled due to governmental restriction, so you may get your money back. Even after the virus goes away, we'd suggest you visit tourist destinations that are least affected by it, as those places would be in better mood for tourists.
However, if you are going to a place which is not at high risk of corona, then to reduce risk of spreading or contracting germs, read up the special travel guidelines released by the government.
Your wedding day is one of the most important days of your life, and which you have eagerly looked forward to. If you're celebrating it in the middle of the corona pandemic, you have to be extra careful about hygiene. Refrain from shaking hands, and if you do, wash /sanitize your hands immediately.
Request your guests in an email or message you send earlier to carry an alcohol sanitizer around, and sanitize hands every time they touch the elevator, open doors, travel by public transport, and avoid touching the face. If everyone practices this, your wedding will be a safe and happy event!