Indian weddings are bright and beautiful, colorful affairs. The colors are never very different, but variations of a few colors such as red, yellow and green. Gold, purple, blue and saffron play their part too. As with other Indian important events, everything has a meaning, including colors, especially in weddings. Here's a look at some of the Indian wedding colors and their significance.
Indian wedding colors and their meaning
1. Red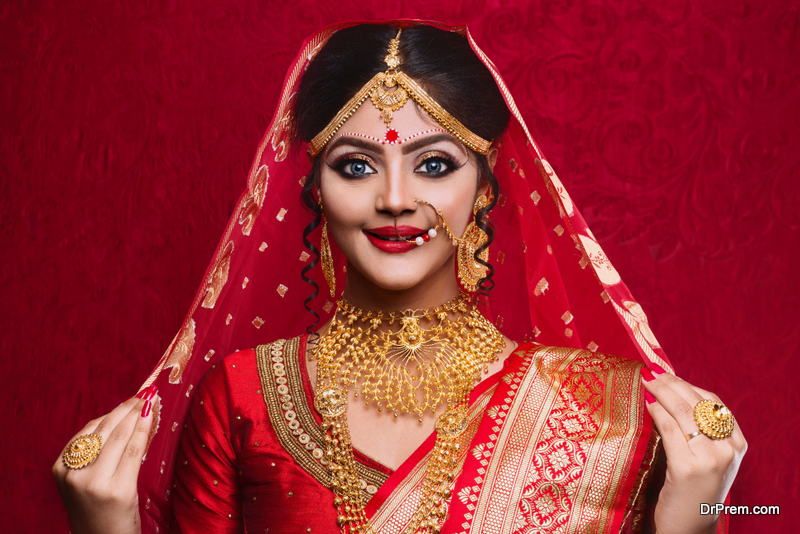 Red is traditionally the most popular color for Indian weddings. It is used in the décor, bridal colors and so on as it considered to be very auspicious. When in doubt, family, friends as well as guests prefer to wear red, as it is a color which denoted celebration, and they would not offend anyone by wearing red.
The red sindoor and red bangles are a given for any Hindu marriage.  Red as a color for the bridal lehenga has given way to a few other colors, but these colors too are usually the ones considered fortunate for weddings. Red is linked to Goddess Durga, as well as the color for Mars, (the planet which is astrologically the planet for marriages), as well. Red sindoor that is put on the bride's forehead signifies fortune and prosperity.
Red also signifies fecundity and fertility, as well as passion and sensuousness. Red, with so many fortunate and lucky connotations for marriage is therefore, always a part of the color palette for everything from the wedding décor to wedding menus.
2. Blue
Blue is a color dominant with nature. Many Hindu gods are depicted in this beautiful color. The grooms often choose blue for their wedding attire as it represents manliness, bravery, determination and stable mind. Blue also indicates a person with a stable mind. However, extremely dark shades of blue are avoided as it can resemble black, which is traditionally not chosen as a color for marriage ceremonies.
3. Yellow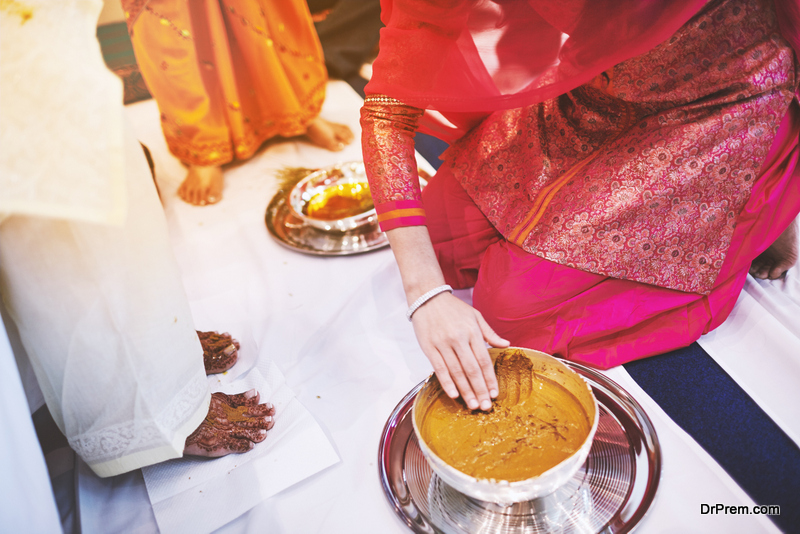 Yellow marigolds are a staple of Indian marriages. The color is an optimistic, cheerful bright color which lends cheer and happiness to the proceedings. Yellow signifies prosperity and opulence and the color is used to bless the young couple with the same. The 'Haldi' ceremony, another ceremony is a pre-nuptial ritual for both brides and bridegrooms.
Turmeric paste is applied on the groom and bride before the wedding, giving them a ritual bath. All the relatives take part in the ceremony, with a lot of joy and fun. Turmeric is a natural cleanser and is used to beautify the groom and bride before the day of the wedding. This ceremony helps the bride and groom prepare mentally for the main ceremony of the wedding. Turmeric infuses a magical glow to the faces of the couple.
Meaning of Hindu wedding colors has great significance for being chosen to be part of the wedding décor or attire. For example, yellow is chosen to bring cheer to the couple and to impart a joyful atmosphere to the wedding.
4. Purple
Purple is associated with royalty and luxury, nobility and power. The color has a quiet aura of grandeur about it and reflects opulence in an understated way. Purple and gold combinations are seen in the weddings which want to create a grand atmosphere.
5. Green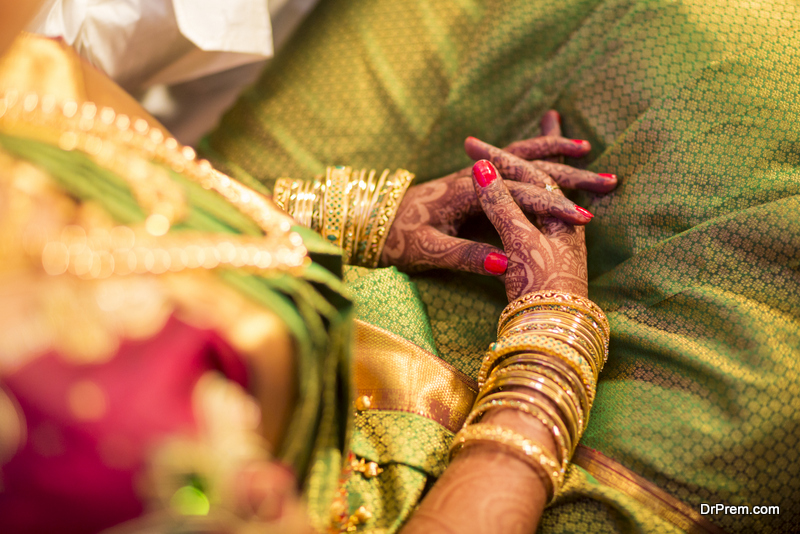 Green is another color which is one of the main colors for Indian weddings. It symbolizes life, freshness, fertility and harmony, all the qualities which makes a marriage successful. The lighter shades of green are particularly favored.
The Mehndi ceremony is one of the important functions in most parts of the country, in some form or the other. The color primarily worn on this occasion is green, the color of henna. Every Hindu marriage has a separate day for this ritual, where the bride'shands are decorated with henna, which signifies a prosperous life for the bride and bridegroom.
In many Indian communities, brides wear green bangles as well as green sarees, as it is a symbolism of new beginnings for the bride. Fresh, green mango leaves are used as part of the wedding decorations, as just like red, green is a felicitous color, leading to good fortune.
6. Saffron/Orange
Saffron or orange has a great significance in Hindu weddings. It combines the happiness of the color yellow and the vibrant energy of red. Orange adds the right touch of happy exuberance at weddings. The meaning of Hindu wedding colors is important as they signify various aspects of married life. Saffron can be seen on the robes of the priests who conduct the marriage as it denotes purity and sacrifice. Marriages are built on trust, love and sacrifice on part of the couple, so that is why saffron is a used in Hindu weddings.
7. Pink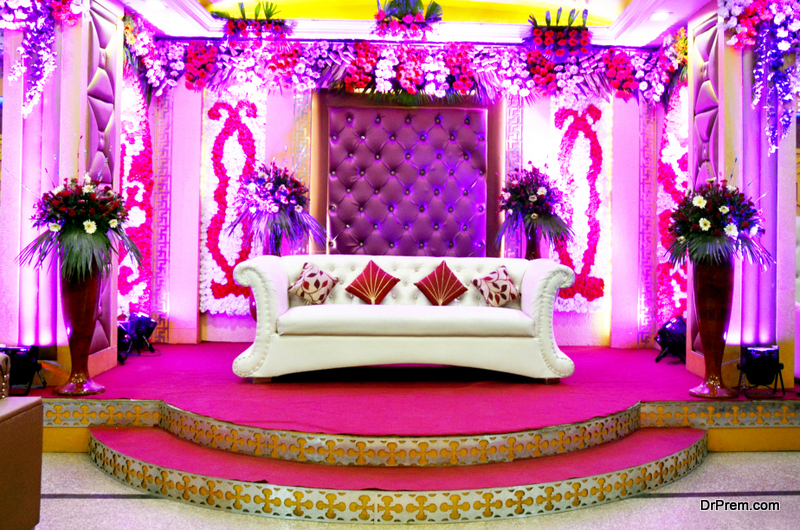 Pink, in all the shades, light and dark is another color which is invariably seen in Indian weddings. The venue may be decorated in pink, as the color has a refreshing aura. White and pink is a popular combination of wedding venues, as the colors look beautiful and signify pristine sanctity of marriage.
These days, instead of bright red, brides tend to choose pastel pink for the lehenga, as it is in the same color family. Pink signifies affection, friendship, inner peace, approachability and harmony. These qualities are much needed between a husband and wife, to create a long lasting happy marriage.
The guests as well as family members and friends look pretty in the sweet color.
8. Cream and red
The favorite color combination for bridal attire is cream and red. Cream is a neutral color, signifying peace, calm and relaxation. It matches well with red, which is a vibrant, energetic color. the two colors together make a combination which is well-suited for weddings. In a marriage, both energy and calm are required to make it work.
9. Golden glitter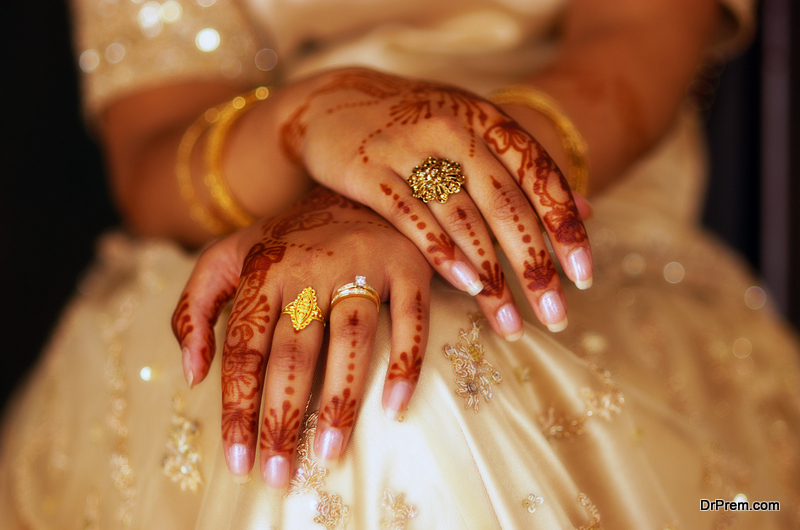 Indian weddings are all about glitter and shine. There is nothing plain and austere about Indian weddings. The world over, Indian weddings are known for rich opulence, pomp and luxurious décor. Gold is an integral part of Hindu and all other Indian marriages, and the bride and the other ladies are decked resplendently in gold. The golden color is used in the decorations too, to usher in prosperity for the couple. The color looks gorgeous on fabrics too, as it inevitably a part of the embellishments in the bridal trousseau as well as the family members.
10. Peach
Peach is a subtle variation of red, which brides are choosing these days, if they do not want to flaunt the bright red. Peach has some wonderful meanings associated with it as it indicates warmth and friendship. Married couples care for each other, and the color peach stands for caring as well, which makes it a good choice for weddings.  The color brings out the embellishments on the bride as well. Peach with blue is a trendy combination that modern brides prefer, and both the colors have their own optimistic meaning as well.
11. Saffron and fuschia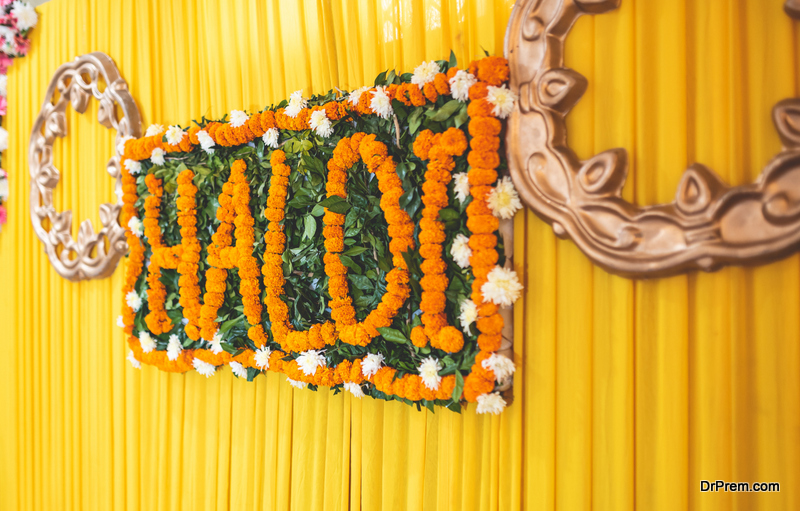 The lovely bright yellow and pink shades as embodied by the fuschia and saffron lehengas or décor lifts the mood of the celebration instantly. The traditional colors are given a modern twist to make the Indian weddings contemporary. The stylish color palette has roots in the traditional colors of saffron and pink, thus managing to keep tradition alive while giving it a modern tweak.
If you are deciding to plan a wedding in India, you should remember that colors play an important role in Indian weddings and there are few, such as red, green and yellow which are invariably used due to their auspicious nature and deep meanings. Even the modern choice of colors has not diverged much from the original hues, but stay within the basic color palette.