There's nothing sweeter than reading about a couple who are so much in love that they've managed to stay together for over 5 decades. Octogenarians Philip and Doris Gostling are testament to that view, having been married for 56 long years. To celebrate their anniversary, the couple have decided to recreate their honeymoon by literally taking a drive down memory lane.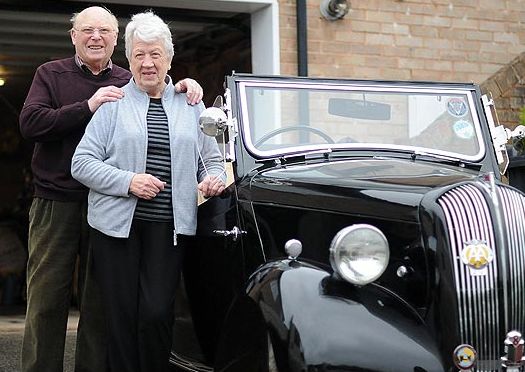 For their honeymoon, they had gone for a drive in an Austin 7 from London to Trebarwith. Now, they're looking to travel the same route in a vintage 8hp '46 Standard 8 saloon. In true romantic fashion, Philip lovingly restored the old car for the special occasion.
The husband and wife aim to try to stick to the same roads and the A30 they followed back in the day with a few deviations owing to modern motorways that didn't exist in 1956. They'll travel from their home in Devon's Redhills to their honeymoon destination in Cornwall's Trebarwith. They'll attempt to avoid the motorways and will stop for tea and a stroll on the beach.
According to Philip, the newlyweds had a leisurely honeymoon, driving through the towns of Cornwall. The entire trip took about 9 hours. For their honeymoon recreation, the couple will spend a day reliving their happy moments before heading back home. Philip says that aside from the cup of tea and the romantic stroll on the beach, they have nothing else planned.
Their decision to walk down memory lane has received widespread admiration from all quarters with many saying that the duo's plan to relive their happy moment should be a lesson learned for all married couples of today. With their love still standing strong, we've no doubts that the pair will continue to inspire married couples for a long time to come.
Via: Thesun