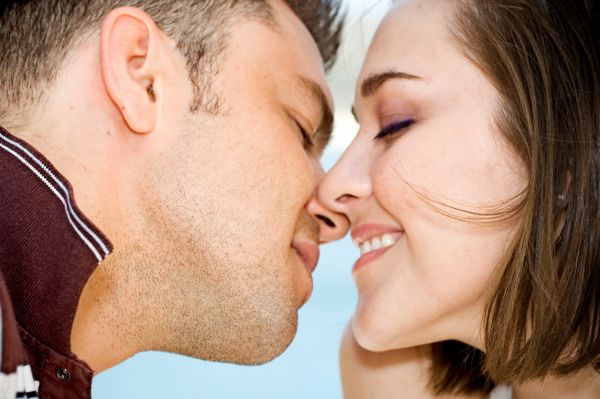 We are sure that you love your beloved more than your life. But do you express that once in a while too? If not, then do so. Inculcating romance in life makes relationships grow even stronger. It makes the relationship spicy and brand new. But, if you run short of ideas then we are there to assist you and make your relationship the most romantic one.
Innovative French kiss
You might smooch your beloved quite often. This is the time to be a little more innovative so that your love life gets a romantic lift. Get hold of some sweetly scented candies that your partner likes, such as strawberry, cherry, oranges, etc. Now, melt them in your mouth just before you kiss him or her in the classic lip locked style. Finally, when you will give your lover a French kiss, he or she will love the brand new experience for its sweet taste and fruity flavor!
Give a body spa
Mesmerize your beloved in a romantic spell by giving him or her body spa. Your own hands, love and the invigorating session will be something that your partner will treasure. All you need to do is to arrange for some aphrodisiacs like liquid chocolate, honey, etc. Ask your partner to relax as you take the initiative of ripping off his or her clothes one by one. The mercury will automatically start spurring by this time. Now, cast the final spell of romance by smearing the liquid aphrodisiac all over his or her bare body. Give gentle pressure as you massage your partner's body with this aphrodisiac.
Go for a romantic movie
Movies have a deep set connection with our minds. We can hardly deny that we often associate these celluloid stories with our lives. So, you can treat your partner to a romantic movie in order to bring back the spell of romance in your relationship. Choose a movie that stars some of the favorite actors of your beloved. Select a theater that remains less populated most of the times. Now, as you watch the movie, give him or her some quick kisses during romantic scenes or rub your hands against each other. All these will make your love of life's heart beat faster than normal and he or she will treasure your romantic company.
A surprise holiday
Sometimes work pressure, tension and stress mars the romanticism in us. But we know that you love your beloved like anything. So, another romantic tip for you is to surprise your partner by arranging for a surprise holiday. Select a place that is calm, quite and romantic enough to awake the passion in you. Never let others know where you are going, or else disturbing elements will destroy your romantic holiday. Also restrain from any official and professional work during this idyllic holiday. Get fully immersed in each other's company instead.
Flaunt sexy dresses
Your partner might have been bored seeing you in the same attire every day. This time make him and her go mad with your new look. Get yourself a set of sexy lingerie. Do not bother about your figure as you step inside such sexy attires. It is your appeal that will make your beloved crazy about you. Always remember to gift your spouse a set too, so that the perfectly passionate ambiance is set all around. Such revealing clothing will make your love making a pleasure for sure.Bed of love
Bed holds an important position in case of love. So, you need to give it a makeover too in order to inculcate more passion in your love life. Go for erotica in your bed decoration. You can give it a floral makeover, as nothing can complement flowers in expressing your affection for your love of life. So, sprinkle dark red rose petals all over the bed. Spread pastel colored satin bed spreads over the same. Now, as you indulge in sheer passion in your bedroom the bed will be the perfect backdrop.
Blindfolded love
Since love binds you together, so your partner has great faith in you too. Capitalize on this and play the blindfolded love game. Ask your partner to sit on a chair, allowing you to be naughty. Now, tie a strip of cloth all around his or her eyes, so that your beloved's visibility is totally off for the time being. Next, get hold of something interesting, like a chilled strawberry or a feather. Tickle his or her sensuous spots gently with the same. Never touch your spouse with hands. Do not let your partner touch you too. Stress on the points like nape, ear lobes, lips, shoulder tip mostly as they are the most sensitive points that arouse orgasm. Make your love of life mad with your romantic gestures.
Romantic couple bath
Make the bath time romantic by calling your partner to join with you too. Do not force him or her. But make gestures that will automatically draw your partner towards you. In the meantime, make the bath sensuous. Work up rich lather in the bathtub and keep it warm enough so that you feel comfortable while taking bath in it. Sprinkle a few drops of essential oil in the bath, so that your bathing experience becomes out of the world.
Romantic intoxication
Treat each other with a bottle of wine. Create the right ambiance for the same. Replace your electric lights with that of soft candle flame. Now, instead of drinking from your own tumbler, sip wine from each others' tumbler. Drink until you get intoxicated in each others' charm.
Dance and music
Music is the best element for creating the ambiance you want. So, opting for eternal love songs, soft tunes and light romantic numbers will set the best atmosphere of passion. Tap your feet gently with the rhythm of music. Get your beloved along with you too in this dance of love and dance to your heart's content. Even if you are not a dancer, such an attempt will undoubtedly add spice to your love life.