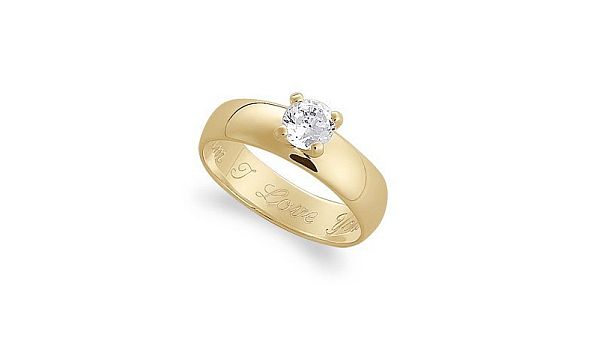 Solitaire as it means, a single diamond in setting. When it gets crafted in form of a ring then nothing is more pious than this for solemn engagements. If you ever thought that these stones were splinters from falling stars, then we are here to get you an insight of the dream world. Here we have created a list of 10 most beautiful solitaire engagement rings. Have a look.

1. CZ Solitaire Engraved Engagement or Wedding Ring
BRAND : Limoge's Jewelry
PRICE : USD 22.99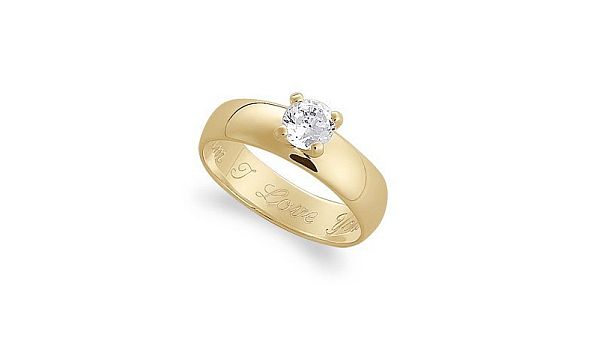 Take a trip to her heart with this scintillating solitaire ring from the house of Limoge's Jewelry. This has a traditional band of sterling silver which is incorporated with 14k gold. The band width is 5mm and the solitaire that sits proudly on it gives a spectacular view. You can get a message engraved on the band. This will help you speak out your heart and let her know about your boundless love. The message can be up to 25 letters, so unleash the creativity and woo her for life.
USP
The option of engraving your thoughts on the gold band of this solitaire is worth admiring.
PROS
It is made of 14k gold.
It has a brilliant cut diamond solitaire.
2. 1.00 CT Pink Princess-cut Solitaire Engagement Ring
BRAND : Kosher Diamonds
PRICE : USD 3239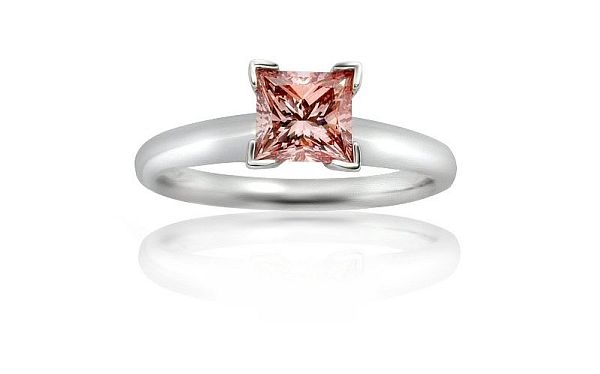 Show commitment towards your angel by adorning her finger with this princess cut diamond solitaire. The pink diamond is the cynosure of all eyes. It sits all alone but has the might of hundred other diamonds. This solitaire is of top notch with SI-1 clarity diamond ring. The weight of the stone is 1.00ct. Moreover, the band is made of white gold.
USP
The vivid fancy pink diamond has the beauty to catch everybody's attention.
PROS
It is of SI-1 quality.
The diamond is in princess cut for extra dazzlement.
3. 0.70 Ct Round Diamond Solitaire Engagement Ring SI3
BRAND : Fascinating Diamonds
PRICE : USD 4439.99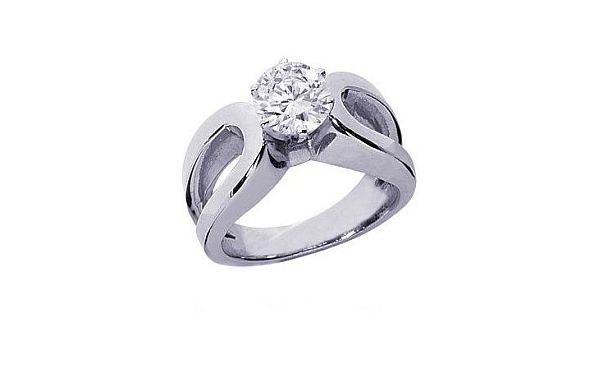 This ensnaring round diamond solitaire has been deftly made for your mademoiselle's pretty finger. So make your finger feel delighted with this solitaire ring that gives a magnanimous appearance. The band of this engagement ring comes in a unique style that pulls you to get one for her. Its charisma pervades in the nocturnal light. Having arranged in prong setting, this ring has got the best arrangement.
USP
The spilt band is one of its kinds and all set to flatter the wearer's finger.
PROS
The diamond has been naturally created.
The shape of stone is circular
It is made of 14k white gold.
4. 0.45ct Prong Set Round Brilliant Diamond Solitaire Engagement Ring in yellow gold
BRAND : David Ashley
PRICE : USD 1949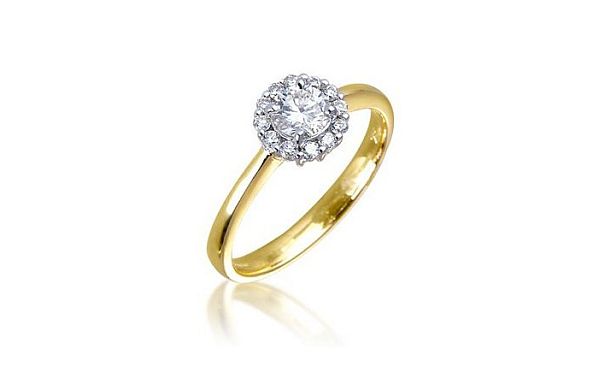 This ring is sure to become your bride- to- be's muse. With an air of romance that this ring spreads you can ignite the fuel of your love. It signifies pure and eternal love between two souls. While you wrap the solitaire around your honey's finger, the diamond's spark increases your proclivity towards her by tenfold time. So, get this prized possession for your lady and cherish it throughout your life.
USP
The beautiful prong setting done with the round stones, gives a snazzy view for you to admire.
PROS
It is made of 18k yellow gold.
The diamonds are in round and brilliant shape.
5. Platinum Spiral Round Diamond Solitaire Engagement Ring
BRAND : James Allen
PRICE : USD 1652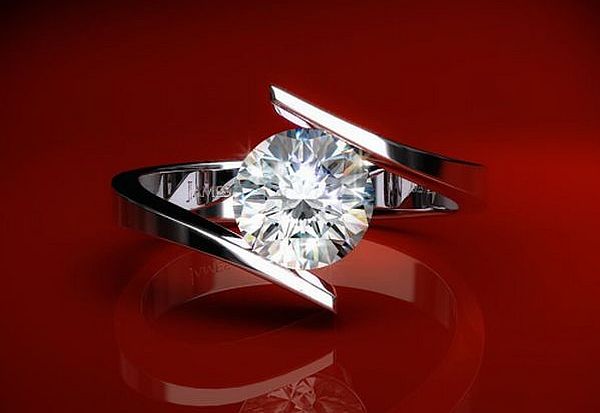 If your lass wishes to make her own jewelry statement then this platinum spiral round diamond is apt for her. Get to know the real meaning of oozing divinity with this engagement ring. There is a cup underneath stone which acts as a protection. It's worth to be kept as family heirloom. The solitaire dazzles like a shining moon in the nocturnal light.
USP
After looking at this enchanting solitaire ring in spiral shape, you can visualize a floating experience.
PROS
It has a very classy and elegant design.
The diamond is in bright round shape and is supported by a tiny cup.
It is made of 18k white gold.
6. 3/4 CT. Marquise Diamond Solitaire Engagement Ring in 14K Gold
BRAND : Zales
PRICE : USD 1999
The marquise diamond acting as a solitaire in this sizzling ring is the center of adulation. It is made of 14k yellow gold and is highly lustrous. The standard ring size is 7. The gold and diamond contrast is gives a majestic look. Make her yours forever and let her know about your profound love with this timeless creation from Zales.
USP
The marquise shape of the solitaire is upbeat and your finger will be dignified to wear this ring.
PROS
The gold features a 3/4ct.
It has prong settings.
7. 1 CT. T.W. Certified Colorless Princess Cut Diamond Solitaire Engagement Ring
BRAND : Zales
PRICE : USD 3499.99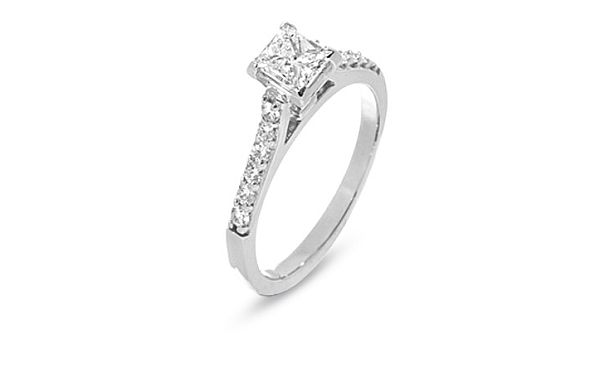 Make your engagement an affair to remember with all the fascination and ecstasy that you can feel about with your better half. Put this solitaire ring in her finger and elevate her senses. This ring has all that it takes to be the brightest. The diamond is cut in princess shape for the best scintillation. Almost all the reviews that this ring has got there is one thing very common, i.e. they all have called it romantic.
USP
The contemporary style of this solitaire ring is what pulls your eyeballs.
PROS
The stones are arranged in prong settings.
The white gold used here is of 18k.
8. .76 Carat Diamond Solitaire Engagement Ring In 14kt Yellow Gold
BRAND : Ross Simons
PRICE : USD 2586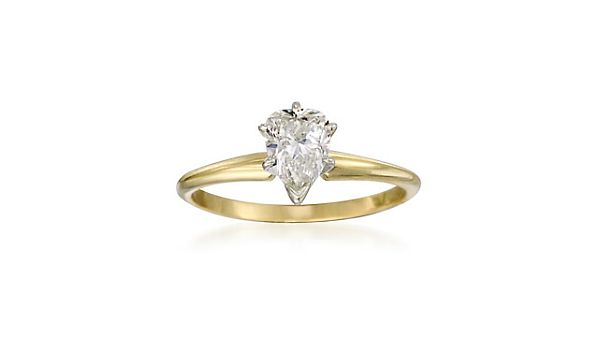 Let her fingers do the talking with this glorious solitaire ring. 0.76 carat diamond used as a solitaire, is a thing to watch out for. The craftsmen have delicately made this ring with all the defined textures that it needed. Its diamond is in pear shape and you don't get such shapes easily.
USP
This pear shaped diamond is unique and worth admiring.
PROS
It is made of 14k yellow gold.
The sleek band is adding to its advantage.
9. Bling Jewelry Sterling Silver 1.2K CZ Pave Solitaire Engagement Ring – 6
BRAND : Bling Jewelry
PRICE : USD 39.99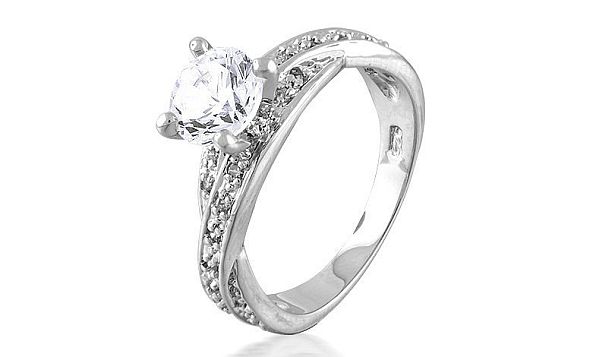 The eclectic style of this solitaire ring is sure enough to blow your mind. Its 1.2 carat solitaire has side stones that embellish the ring. The center stone is arranged in prong setting whereas the side stones are in pave settings. Moreover, the rhodium finish done on it is just class apart. It has 1.2 carat round cut diamond CZ. Your lady will love flaunting this because it complements all the dresses and yet gives a delicate touch.
USP
The intricate detailing on the band features a chic wrap around design which looks alluring.
PROS
It is made of 925- sterling silver.
The gem type is cubic zirconia.
10. 1 CT. T.W. Enhanced Black and White Diamond Solitaire Engagement Ring in Sterling Silver
BRAND : Gordon's Jewelers
PRICE : USD 509.15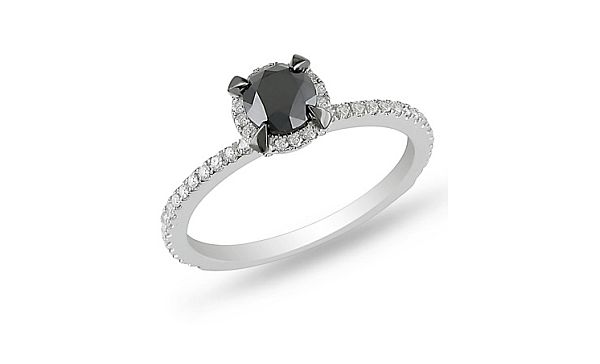 Love shines more than anything. Let the whole world know how much you love her, by giving this solitaire ring which is also a symbol of love. The sleek sterling silver features a 3/4 carat enhanced black diamond. It has been wrapped in frame with glittering white accent diamond. The shank is lined by additional accent diamonds.
USP
The round and enhanced black diamond has been wonderfully surrounded with small diamonds.It looks highly posh.
PROS
The stones are arranged in prong setting.