The chuppah is another name for the ceremony which Jewish people used for their wedding. The Chuppah theme ideas for a Jewish wedding are simple yet one of the elegant wedding decoration ideas. The chuppah is canopy attached to the four poles under which couples say "I DO". There are endless varieties and variation of this theme wedding ideas. Try out different Chuppah ideas to give a unique touch as for how your home will be where you and your partner will spend the rest of your life together.
Let's see some of the interesting Chuppah theme ideas for the couples to consider.
1. Beach Chuppah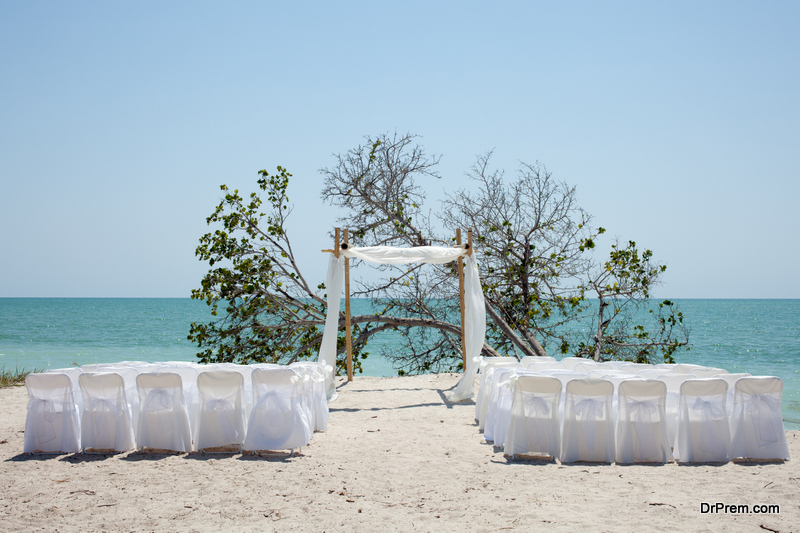 Beach wedding can be so much fun when planned properly and when the weather does help you to get the perfect planning. Be it a humid weather sun or the crashing of the waves which gives a nature's feel and calming sounds, beach theme gives you a perfect background to plan for the special day.
Start with an invitation by having a wooden anchor card. This will give away the feel at first glance only. Beach wedding has to be casual and there are different possibilities you can try. Secondly, you can choose natural décor and of course a beach color scheme like, blue, green and brown and white. Try the chuppah standing in the sand with lots of white roses and leaves for casual effect. Set up a lounge with hammocks for the guest for a beachy feel. Add lots of tropical drinks and a gorgeous oceanic themed cake to complete the look.
2. Tropical chuppah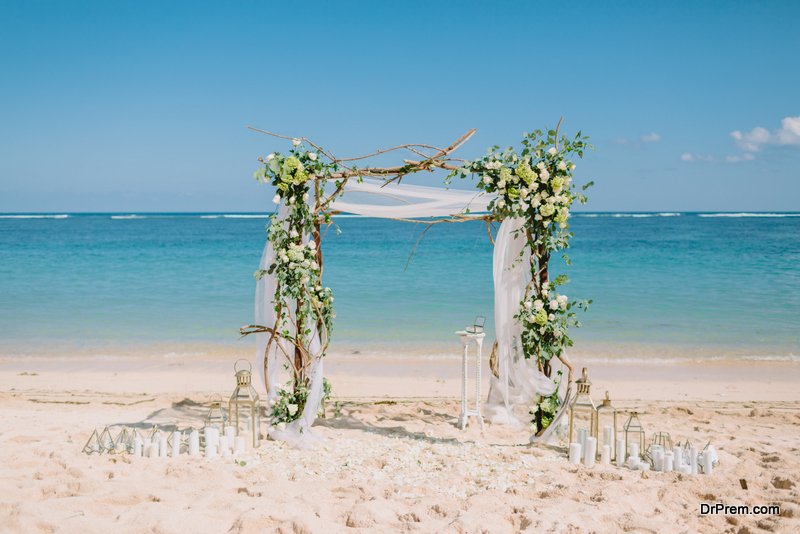 There are so many tips and ideas for the tropical wedding. Starting from flowers to the color and to food, thereis no shortage of gorgeous ideas to imply. Planning a tropical chuppah does not mean that you have to choose a paradise or get married in the lush and costly destination. You can transform any normal wedding location into a tropical one with some interesting and smart tips.
One of the ideas starts with a pineapple escort card to give away the feeling, a palm place setting, include interesting and exotic flowers in the décor like orchid bouquets. Few flowers like garden roses, ranunculus addsgreenery forgetting a mild feel. Banana leaf linen and bride's maid dresses or some unique decorative elements can also be added to go with this theme.By adding these elementsto your wedding, you can give a tropical touch to your wedding.
3. Tuliptheme chuppah/canopy

One of the interesting ways to add tulip to your chuppah is to use different coloredpainted tulip on the white fabric. Use silk fabric to get the flawless effect. This specially printed fabric to decorate your Chuppah and drape around the canopy gives an earthy feel to this Jewish wedding theme ideas.
Colors like violet, sky blue and redlooks great with purple line and border adds definition to all the elementsas it hangs as the canopy. This wedding canopy is used for ages and one of the oldest chuppah designs of the couples. The most loved choice for the Jewish couples. Same as Tulip, you can use your favorite flower print on the fabric to decorate your chuppah.
Quick tip: – adding the onlya lot of white tulip on the canopy can also do the work easier and it looks wonderful and beautiful.
4. Minimalist chuppah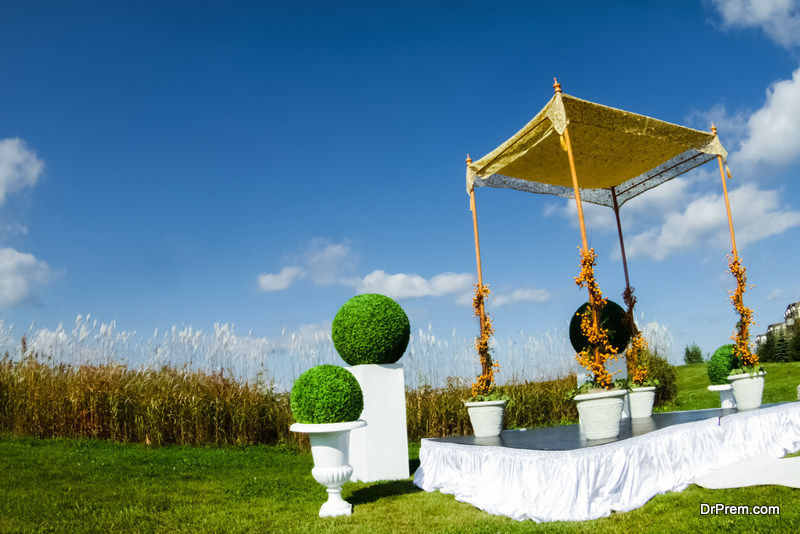 Minimalist wedding arch ideasare not boring and flat but rather toned down a focus on little detail and that is most meaningful to the couple. If you want to make your wedding a real star, choose minimal style and decoration. A white silk draping with the baby pink color flower arrangement of your choice in a minimal way will enhance your decor.
A full of eucalyptus also looks complete and can help achieve the look of simple yet elegant look. You don't have to bare yourself with using colors but use highly soaked shades should be avoided so as not to clash with your minimal wedding themes. Choose a wedding gown which has lesser laces, sequence and also avoid using belts to keep it minimal and simple.
5. Floral Chuppah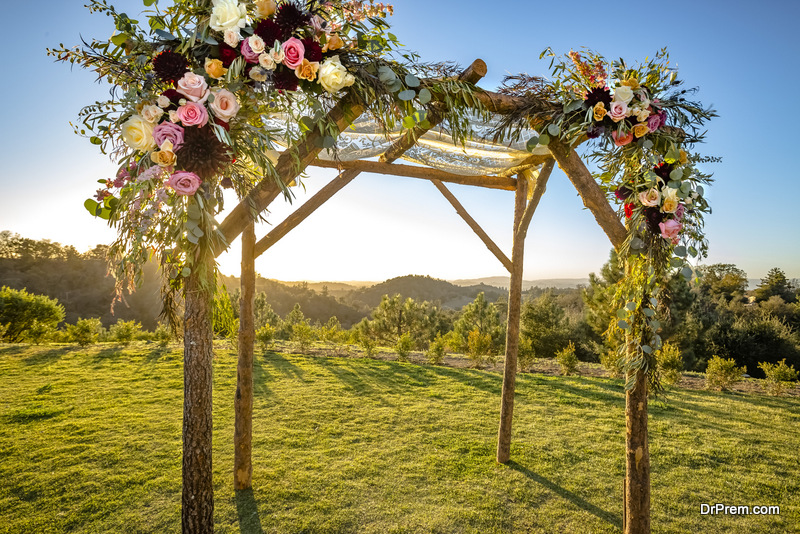 The floral chuppah is one of the most gorgeous and much loved Chuppah. Depending on which season you are getting married and choose the flowers according to the available flowers on that season. A selectedcolorpalette like deep purple, burgundy can look good on it. Lots of greens and flowers like orchids, roses, Dallas, delphinium, and dianthusare preferable to decorate this wedding Chuppah theme.
6. Wooden décor Chuppah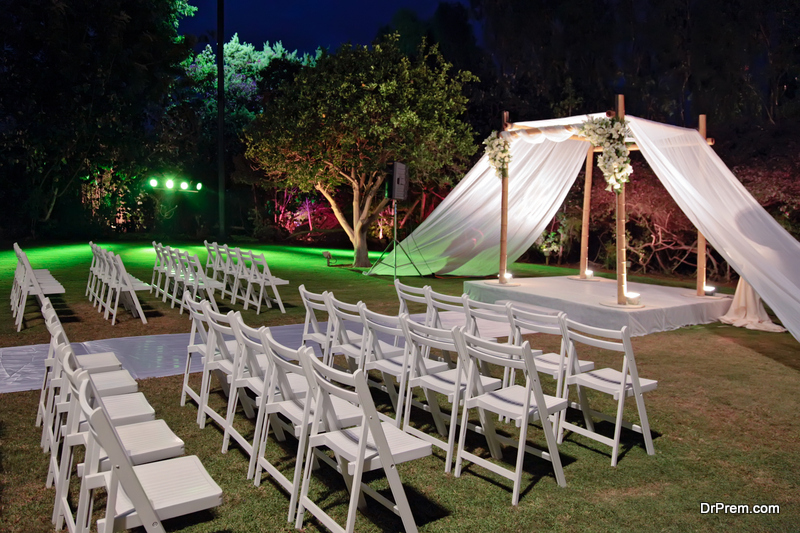 Very different Jewish wedding theme ideas are this large wooden canopy chuppah. This classic chuppah work both indoor and outdoor venues with varieties of wedding details. It is made of large exposed wooden branches. A white and purple color or white and pink will create a soothing effect. Decorate with lots of colorful flowers and plants to add a variety and colors to the canopy. Select with varies of flowers to express the tone of your wedding.
7. Acrylic theme chuppah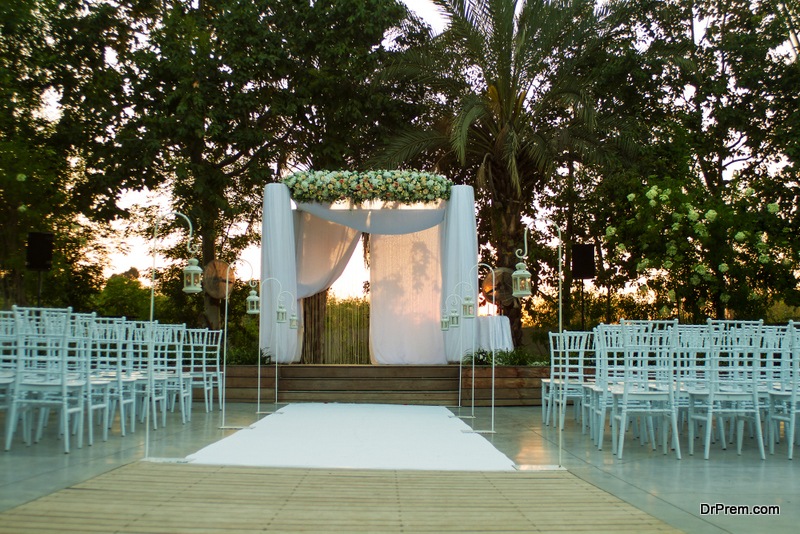 One of the unique decoration ideas for a Jewish weddingis acrylic Jewish wedding setup is the hotels, clubs, and glamorous ballroom. Here the clear beaded curtains take the place of traditional fabric draping. This can help in adding spark in your Acyclic Jewish wedding chuppah.
Place the wedding flowers on the clear risers behind the chuppah. So that it creates a sense of space. It will give a gorgeous effect when you exchange vows under the entirely clear acrylic structure. Decorate the areas full of candles in the glass instead of to create a romantic and warm ambiance